Whew... Here we are at exhibit four of the House of the Haunted Damn Mind. The Cool MoDell's illustrations are powerful, mysterious, themes are both haunted and damned as in the ethereal power projection "Solar Witch," with it's passion for heat, in his essential medium, visual magic. Dark, humor in "West Texas Study in Bombs." Sensual color contrasts and nuances in overtones. Whew, I wish I got paid by the adjectives - I'd be rich by now. Sure not gona get rich trying to describe his damn haunted mind to web tourists, not at $5.75 an hour I'm not. Now ifin you haint had enough, come on into the nextin... click thar far ye sneak peek.
NEW SNEAK PEEK "OAK RIDGE AND THE PHENOMENON TO REMEMBER HER BY"
Have you got Ye some Ole Cuzz yet?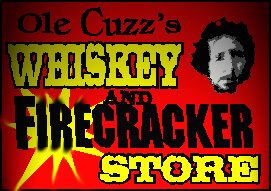 EXIT
All entries copyright Daveo-Electric Kitchen 1998 all rights reserved.